scevent¶
Associates an Origin to an Event or forms a new Event if no match is found. Selects the preferred origin, magnitude and focal mechanism.
Description¶
As a consequence of a real-time system the SeisComP modules creates several origins (results of localization processes) for one earthquake or other seismic events because as time goes by more seismic phases are available. scevent receives these origins and associates the origins to events. It is also possible to import and associate origins from other agencies.
The main tasks of scevent are:
Origin Association¶
scevent associates origins to events by searching for the best match of the new (incoming) origin to other origins for existing events:
Associate origins belonging to belonging to the same seismic event to the same event object in SeisComP.

Associate origins belonging to different seismic events to different event objects in SeisComP.
If no match can be found, a new event can be formed.
Origins can be filtered/ignored based on
Origin match¶
The new origin is matched to existing origins by comparing differences in epicenter, origin time, and arrivals (associated picks). The new origin is matched to an existing origin which has the highest rank in the following three groups (1, 2, 3):
Location and Time (lowest)

The difference in horizontal location is less than eventAssociation.maximumDistance (degrees) and the difference in origin times is less than eventAssociation.maximumTimeSpan.

Picks

The two origins have more than eventAssociation.minimumMatchingArrivals matching picks. Picks are matched either by ID or by time depending on eventAssociation.maximumMatchingArrivalTimeDiff.

Picks and Location and Time (highest)

This is the best match, for which both the location-and-time and picks criteria above are satisfied.
If more than one origin is found in the highest ranking class, then the first one of them is chosen.
No origin match¶
If no event with an origin that matches the incoming origin is found, then a new event is formed and the origin is associated to that event. The following criteria are applied to allow the creation of the new event: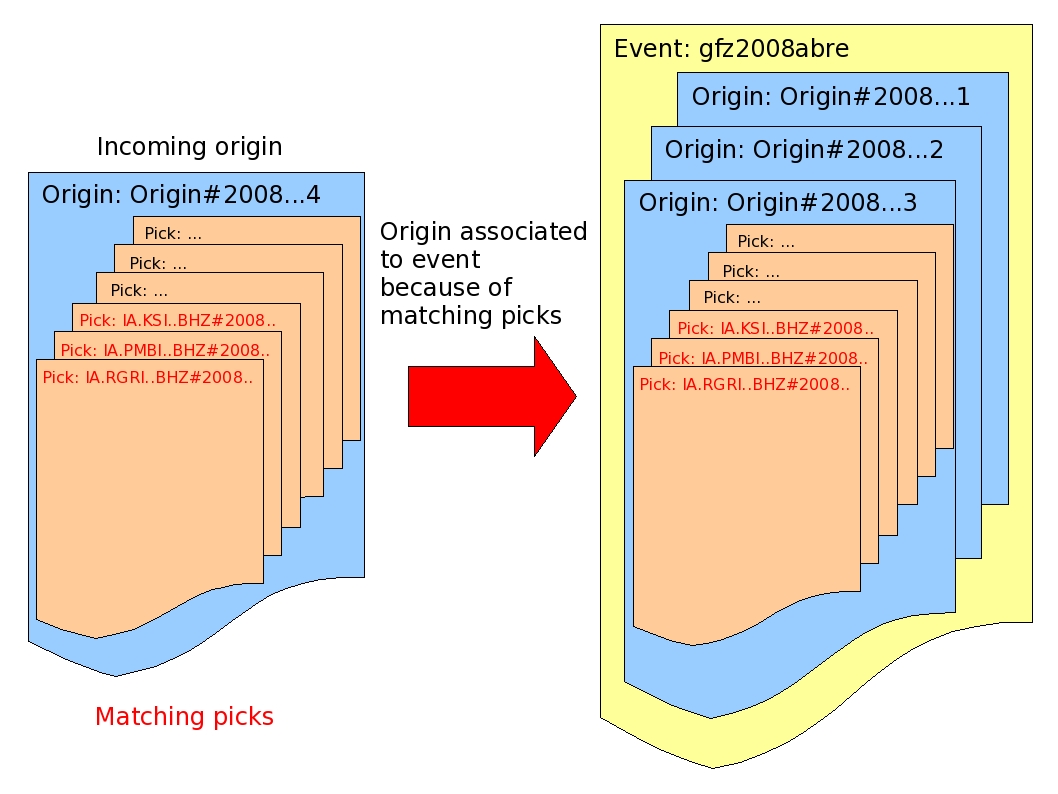 Preferred Origin¶
The preferred origin is set by ranking of all associated origins. The ranking is controlled by eventAssociation.priorities and related configuration parameters.
Preferred Focal Mechanism¶
The most recent manual focal mechanism or, if no manual ones are unavailable, the most recent automatic focal mechnisms becomes preferred.
ID of Events¶
The ID of an event or eventID uniquely identifies an event. The ID is derived from the time of occurrence of the event within a year. As configured by eventIDPattern it typically consists of a prefix configured by eventIDPrefix and a string containing the year and a set of characters or numbers defining the time.
Journals¶
scevent can be commanded by journals to do a certain action. Journal entries are being received via the messaging bus to any of the subscribed groups. A journal entry contains an action, a subject (a publicID of an object) and optional parameters. Journals can be interactively sent to the messaging by scsendjournal.
If scevent has handled an action, it will send a reply journal entry with an action formed from the origin action name plus OK or Failed. The parameters of the journal entry contain a possible reason.
The following actions are supported by scevent:
Module Configuration¶
etc/defaults/global.cfg
etc/defaults/scevent.cfg
etc/global.cfg
etc/scevent.cfg
~/.seiscomp/global.cfg
~/.seiscomp/scevent.cfg
scevent inherits global options.
Note
eventAssociation.* Criteria defining if Origins are associated to an event and which Origins and magnitudes become preferred.
Note
eventAssociation.region.* Region filter for creating events. Use with care! Origins outside may be ignored even if they would become preferred otherwise.
Note
eventAssociation.delayFilter.* The delayFilter group configures an Origin filter to activate the delay feature for this Origin. If more than one filter is given they are combined with AND.
RegionCheck extension¶
evrc plugin for scevent
Note
rc.* Test if events lie within or outside a region. Events within a region are flagged as positive, outside as negative. The event type is set accordingly. Add the plugin "evrc" to the plugins parameter in the order of priority to make this feature available. Read the documentation of the RegionCheck for more details.